28.5V DC Ground Power Unit (DCGPU) supplies electrical power to a parked aircraft on ground at 28.5 DC Voltage functioning similar to standard diesel generator. We manufacture DCGPU's of Towable Trailer mounted, Skid mounted and Self propelled systems.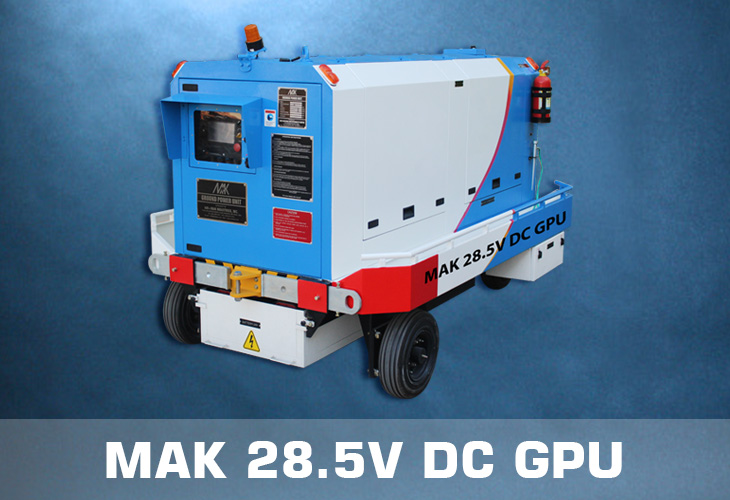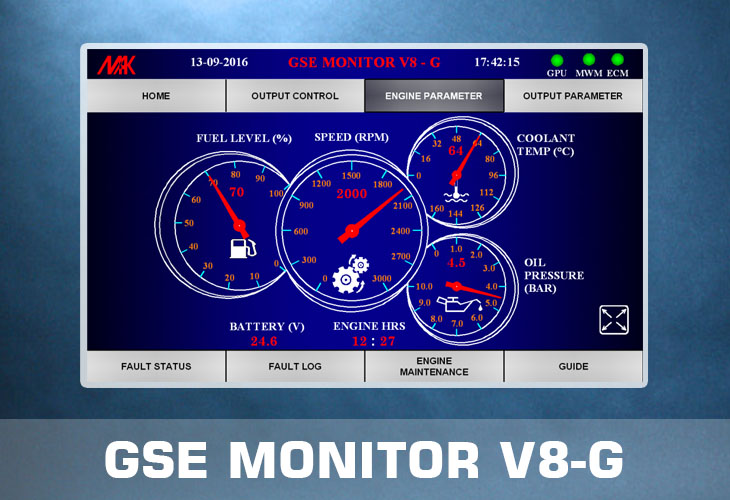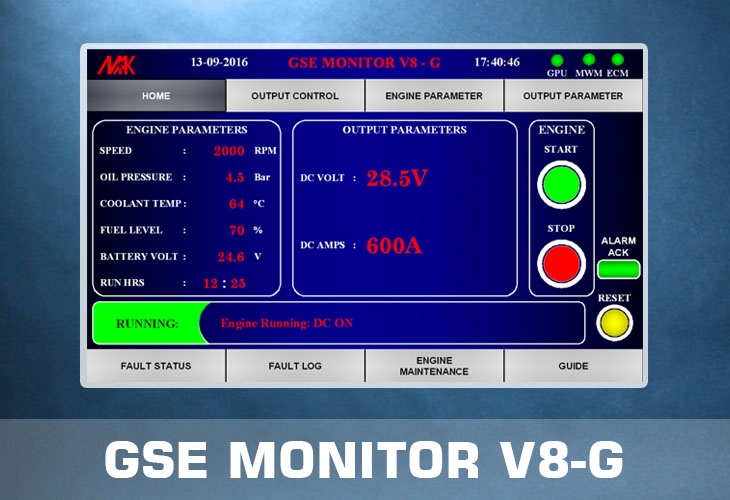 28.5V DC GROUND POWER UNIT (DCGPU)


TECHNICAL SPECIFICATION

PRIME MOVER

ENGINE

: Cummins / Deutz / Isuzu or Equivalent diesel engine

ALTERNATOR

: MAK brushless, 3 phase, constant low voltage
alternator with in-built MAK AVR

INSULATION

: Class H

RECTIFIER

: 12 Pulse Rectifier

OUTPUT CHARACTERISTICS

DC OUTPUT VOLT

: 28.5V

POWER

: 11.4kW/17.1kW/22.8kW

VOLTAGE REGULATION

: ±1%

CONTINUOUS CURRENT

: 400A/600A/800A

AIRCRAFT STARTING CURRENT

: 1500A/2000A

RIPPLE AMPLITUDE

: <1.5V @ Full Load
 

CONTROL PANEL – MAK GSEM-V8

Hi-Tech Control System with Touch Screen GUI

SPECIAL FEATURES

Remote Diagnostics and Monitoring through Cloud (RDMS)

MONITORING

Following parameters are displayed through GUI touch screen on a graphical format for quick understanding

Engine lube oil pressure
Engine coolant temperature
Engine RPM
Fuel level
Engine hours run

Battery voltage
Output voltage
Load current
Maintenance Schedule

OPERATIONAL PROTECTIONS

A. For Engine

B. For Output

Low lube oil pressure shutdown
High coolant temperature shutdown
Over speed shutdown
Low fuel warning & shutdown
Charge fail warning

Under voltage trip
Over voltage trip
Over load trip

*

Due to continuous development, the specifications, layout, configuration and dimensions are subject to change without notice.