A Ground Power Unit (GPU) is a ground support equipment that supplies power to aircraft parked on the ground. We manufacture GPU's for aircrafts that require 200V/115V 400Hz AC and/or 28.5V DC. We manufacture GPU's of Towable Trailer mounted, Skid mounted and Self propelled systems. The popular product variants are 40 kVA, 60 kVA, 90 kVA, 140 kVA, 180 kVA GPU and many more…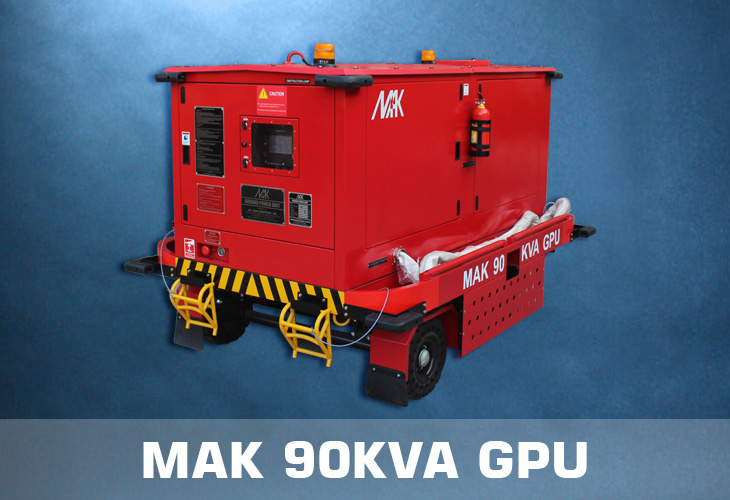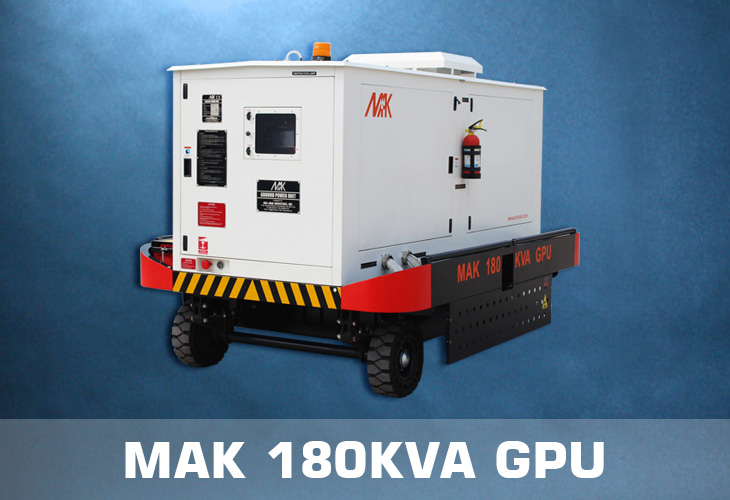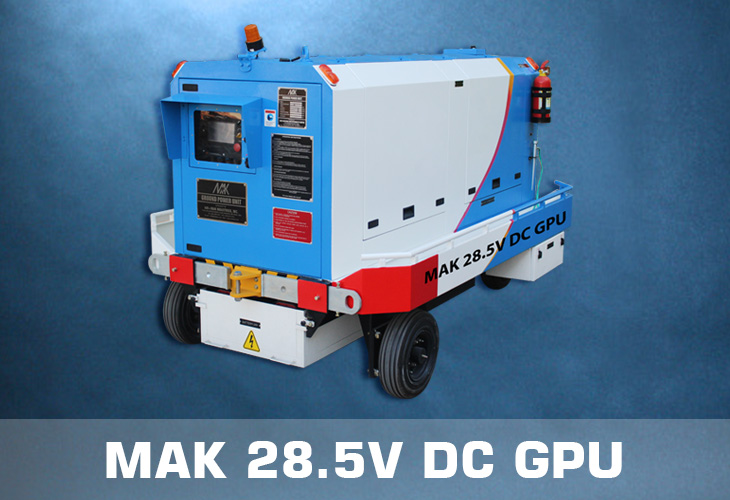 Air+MAK AC GPUs can be supplied with additional 28.5V DC module and small 50Hz inverters for obtaining commercial power voltage for tools, appliances etc.. during aircraft maintenance. MAK 28.5V DC GPUs built with a diesel engine is used for smaller turbo-prop aircrafts requiring 600A/800A DC and starting current of 1500A/ 2500A DC. These units are made compact keeping in mind the space constraints around small aircrafts.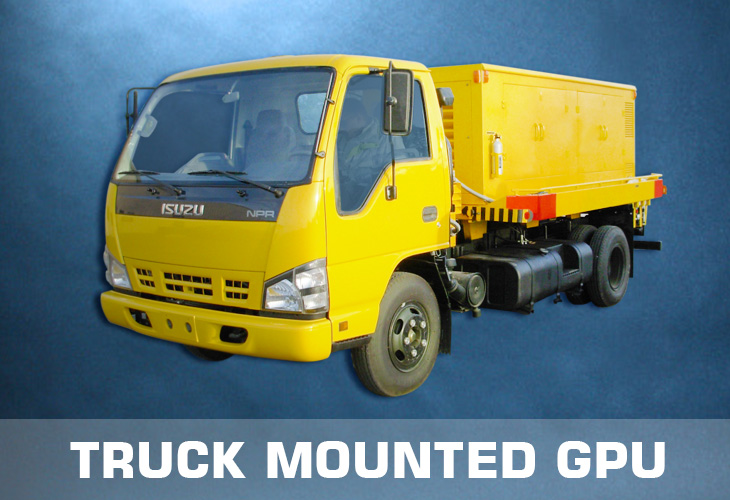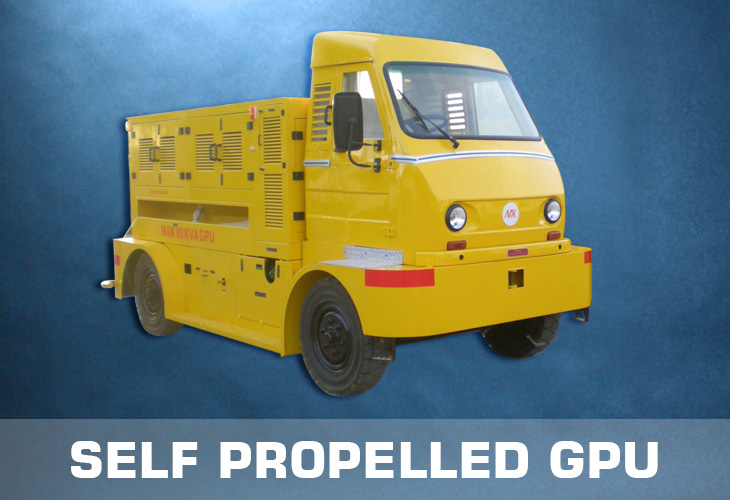 Air+MAK designs and manufactures self-propelled type GPUs for customers requiring quick shuttle across aircraft bays and also to cover long distance between GSE workshop and aircraft bays. Self-propelled systems operates on electric or hydraulic system and can also be made skid mounted for fitting on standard commercial trucks based on customer discretion.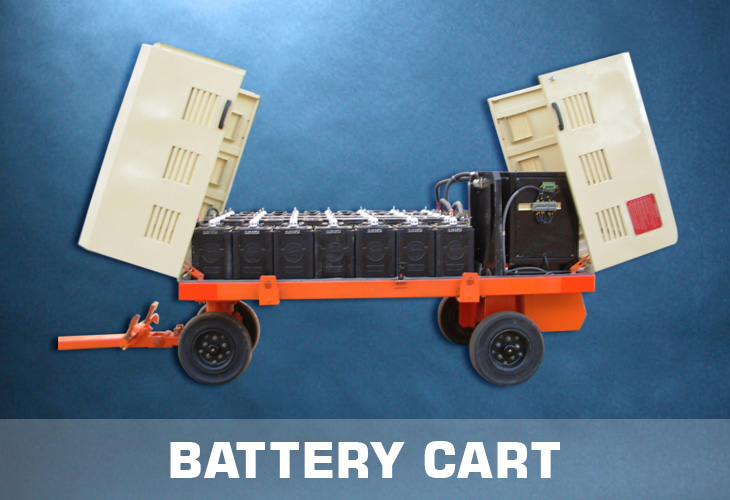 Air+MAK's Battery carts provide 28.5V DC output through its specially manufactured high discharge batteries. These battery carts contribute to environmental friendliness, noiseless operation and need regular maintenance activities.
Air+MAK Ground Power Unit can be used for powering various aircraft systems and also starting aircraft engines employing an electric starter mechanism. Air+MAK manufactures GPUs for commercial and defense applications since last 3 decades and is a pioneer of digital 400Hz GPUs across the world.
A diesel engine/electric motor coupled to Air+MAK's highly reliable alternator provides a perfect output to your aircrafts. With a touchscreen control panel and interactive GUI, this GPU is easy to operate and effortless to maintain.
AirMAK's indigenously designed double bearing brush-less alternator with supreme quality insulation guarantees operational robustness and long life.
Air+MAK GSE Monitor – A touch screen control panel with interactive GUI to showcase summary of all parameters in graphical format with in- built maintenance chart, fault log chart and troubleshooting guide.
Air+MAK RDMS – A unique feature of MAK that comes as standard with MAK GSE. It is feature rich software and hardware built for remote monitoring and diagnostics with parameter monitoring, Geo locations, fault alarms, maintenance alerts etc. It is a complete management tool for a GSE-Head. On touch of a button one can communicate with the equipment and complete history is made available at finger tips.
Air+MAK GPU's are designed to comply with stringent standards such as AHM, ARP, MIL..etc. Air+MAK GPU's are CE Certified enabling universal usage and provides customers a unit par excellence.
There are various operational and physical protection mechanisms designed & Incorporated in AirMAK GPUs making them operationally fail-safe and secure during any untoward faults or basic mishandling.
Air+MAK Ground Power Unit is built with strength to handle tough operating conditions under any weather whilst being compact and effortless maneuverable facilitating smooth towing.
GROUND POWER UNIT (GPU)


TECHNICAL SPECIFICATION

PRIME MOVER

ENGINE

: Cummins / Deutz or Equivalent diesel engine

ALTERNATOR

: MAK brushless, 3 phase, constant voltage
alternator with in-built MAK AVR

INSULATION

: Class H

OUTPUT CHARACTERISTICS

AC OUTPUT

: 40/60/90/140/180 KVA at 0.8 pf lagging

POWER

:3 phase 4 wire system

VOLTAGE

: 115V (Line to Neutral) and 200V (Line to Line).

VOLTAGE UNBALANCE

: a)1% at balanced load.

: b) Within 4% with 1/3rd load on one phase
with two other phases unloaded.

VOLTAGE REGULATION

: ±1%

VOLTAGE MODULATION

: ±1%

VOLTAGE TRANSIENT

: ±20% and ±1% of steady state value
recovery within 200 milliseconds.

PHASE DIFFERENCE

: 120°±1.50°

FREQUENCY

: 400 Hz

FREQUENCY REGULATION

: ±1%

FREQUENCY MODULATION

: ±0.5%

FREQUENCY TRANSIENT

: 385 to 415 Hz, ±1% of steady state value
recovery within 2 seconds.

THD

: <2%
SPECIAL FEATURES

MONITORING

Following parameters are displayed through GUI touch screen on a graphical format for quick understanding

Engine lube oil pressure
Engine coolant temperature
Engine RPM
Fuel level
Engine hours run

Battery voltage
Output voltage
Output frequency
Load currents across all 3 phase
Maintenance Schedule

OPERATIONAL PROTECTIONS

A. For Engine

B. For Output

Low lube oil pressure shutdown
High coolant temperature shutdown
Over speed shutdown
Low fuel shutdown
Charge fail (only indication)

Under voltage trip
Over voltage trip
Over load trip
Neutral open trip
Phase rotation trip
Under frequency shutdown
Over frequency shutdown

Electric motor as prime mover option available

MOUNTING CONFIGURATION :




Towable trailer mounted / Self propelled / Skid mounted for truck

*

Due to continuous development, the specifications, layout, configuration and dimensions are subject to change without notice.