Air Start Unit (ASU) is a ground support equipment equipped with pneumatic starter is used to start aircraft engines. It supplies necessary quantity of air at specified pressure through one/two or three hoses attached to the aircraft's under belly. We manufacture Air start cart Air start Unit, of Towable Trailer mounted, Skid mounted and Self propelled systems. The popular product variants are 100 PPM, 120 PPM, 180 PPM, 250 PPM, 400 PPM Air start unit, Air start cart and many more…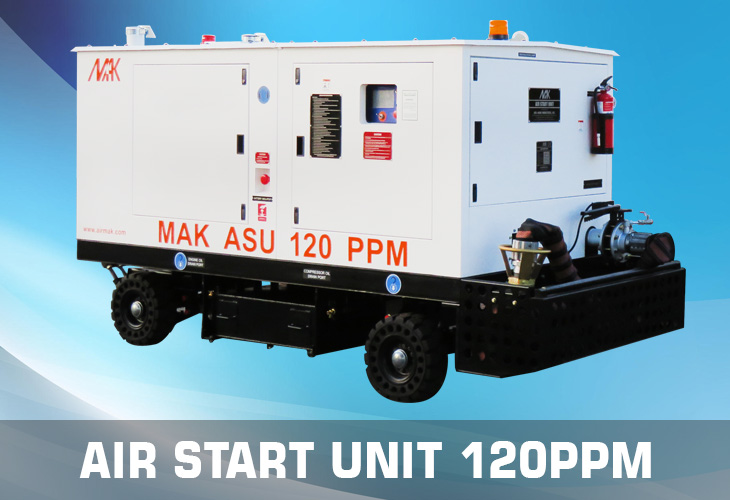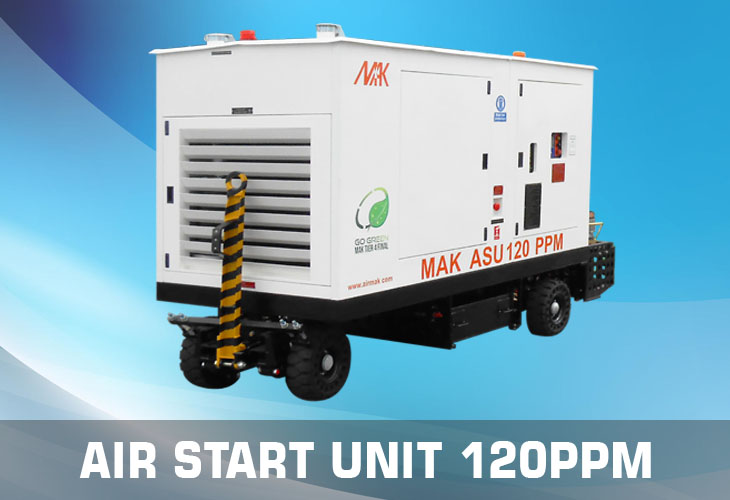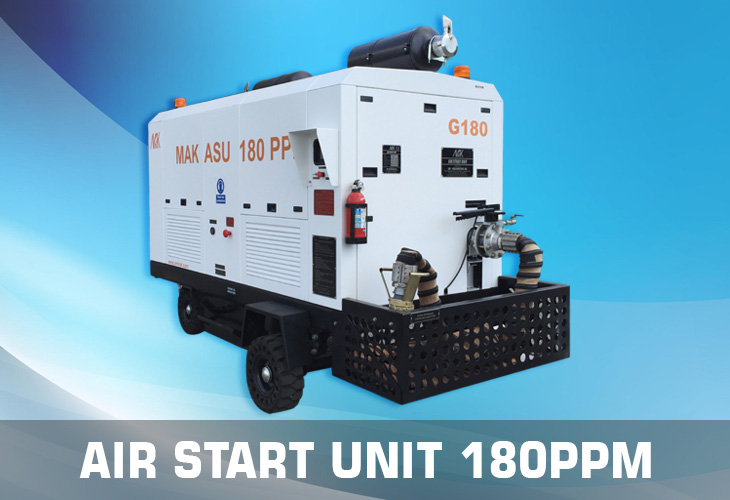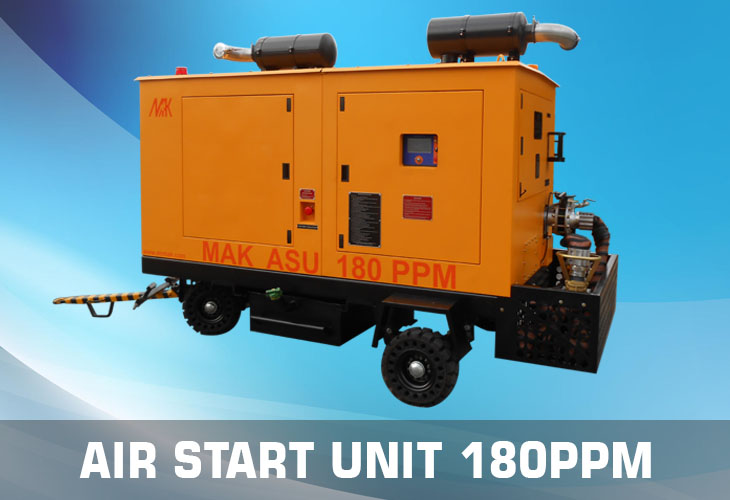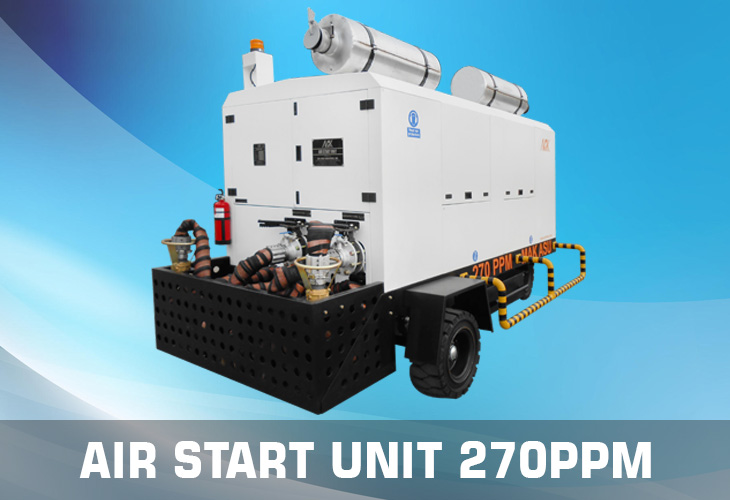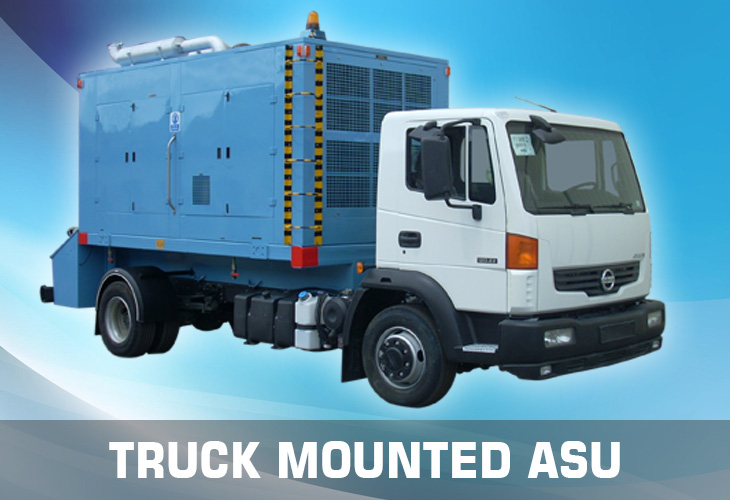 The air start unit 400 PPM started the "world's largest aircraft engine" GE90-115B engine in 48 seconds, essentially equal to the standard on board 747 APU start performance. It is a very robust product that is superior to all other ground start carts & Air start cart , GPU Cart, available in the industry today.
Air+MAK Air start unit come with a touch-screen control panel GSEM V8-A and AirMAK RDMS – A feature rich fleet management software which transmits live operational data to a remote computer/mobile and alerts users in real-time of faults, alerts. With this software users can plan maintenance schedules, ad-hoc service records, order spare parts such as Air start cart, Air start Unit, GPU Cart…and much more Aviation Ground Support Equipments.
Salient Features
Diesel engines from Deutz/Cummins equivalent conforming to latest EPA/Euro emission norms
MAK proprietary digital pressure control system automatically regulates the output air pressure/flow for different air crafts
Demand throttle for fuel efficient operation
Meets MIL, AHM & ARP standards
Low noise level
Digital control system with touchscreen MAK GSEM V8–A
Interactive GUI visible under all weather conditions
Graphical representation of operational data
Fault log chart & troubleshooting guide
MAK RDMS – Remote Diagnosis and Monitoring System (RDMS)
AIR START UNIT (ASU)


TECHNICAL SPECIFICATIONS

PRIME MOVER

Engine

: Cummins/Deutz/Detroit diesel Engines with latest EPA/EURO Emission compliance up-to Tier4 final

COMPRESSOR

GHH – RAND/MAK or Equivalent oil free Screw compressor

TWIN MODE OPERATION

Jet start/AC packs modes have independent programmable supply pressures

Jet start @ 40 psig
Air packs @ 30 psig

PERFORMANCE SPECIFICATIONS FOR PNEUMATIC POWER

Discharge Pressure

: 40 psig

Discharge Temperature

: 392°F (200°C) working

OAT

: -22°F to +118°F (-30°C to + 48°C)

PERFORMANCE SPECIFICATIONS FOR AC PACK (when used with on-board ECS)

Discharge Pressure

: 30 psig
Operates under any weather conditions (rain, snow, hail, fog, wind, sand & dust)

STORAGE TYPE ASU WITH INTEGRAL / SEPERATE CHARGING STATION ALSO AVAILABLE

MOUNTING CONFIGURATION :

Towable trailer mounted / Self propelled / Skid mounted for truck

Air start unit (ASU) OPERATIONS MONITORING

Following Parameters are displayed through GUI touch screen in graphical format for quick and easy interpretation.

ENGINE PARAMETERS

Engine oil pressure
Engine coolant temperature
Engine speed
Engine hours run

Real time
Battery charging current
Fuel level

COMPRESSOR PARAMETERS

Delivery air pressure
Delivery air temperature

PROTECTIONS

A. For Engine

B. For Compressor

Low lube oil pressure shutdown
High coolant temperature shutdown
Over speed shutdown
Under speed shutdown

Low lube oil pressure shutdown
High lube oil temperature shutdown

C. For System

Engine Shutdown is De-activated during
AST mode operation

High delivery air temperature shutdown
High delivery air pressure (relieving to atmosphere)

*

Due to continuous development, the specifications, layout, configuration and dimensions are subject to change without notice.