Apron Tractor is an essential part of ground support equipment and serve multiple purposes. They are used to tow ground support equipment, baggage carts and any other equipment. MAK AT20 is the popular product variant of Apron tractor.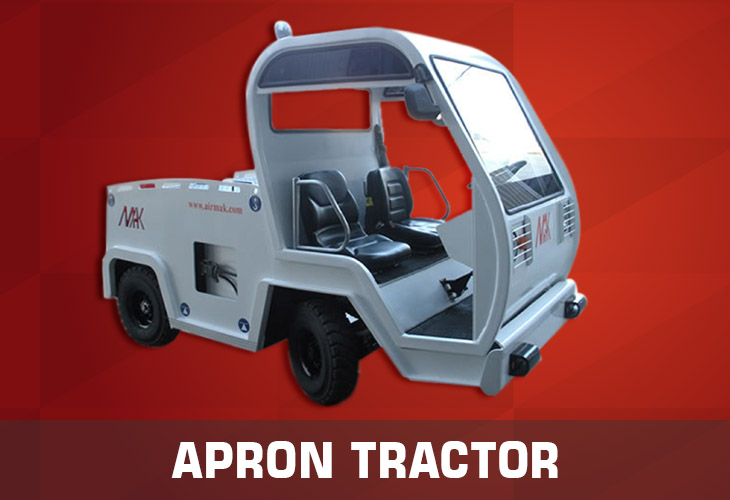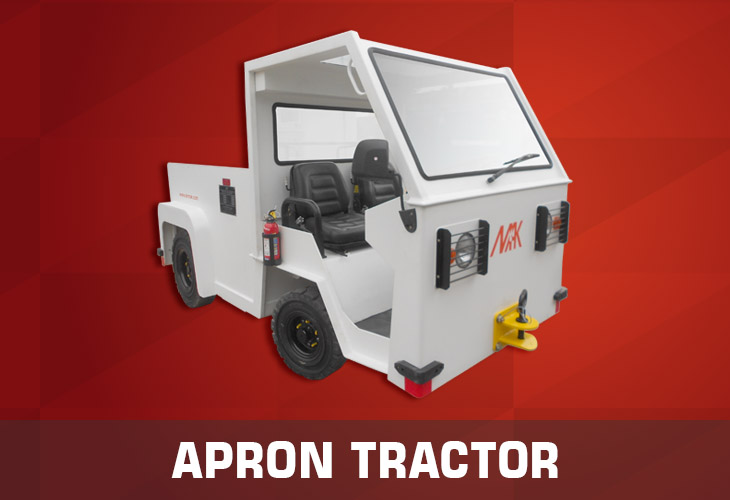 Salient Features
Highly reliable traction motor directly coupled to heavy-duty trans-axle
Long lasting traction battery
Digital control drive mechanism
Hydrostatic power steering system
Dashboard display – Battery SOC, vehicle Speed, Run hours and faults
Hydraulic servo assisted braking system
Compliance to AHM standards
Minimal maintenance requirements
APRON TRACTOR

TECHNICAL SPECIFICATIONS

Prime Mover

: Schabmueller/CFR or Equivalent
3 Phase AC Traction motor

Traction Battery

: Exide or Equivalent 80V 620Ah with
auto-fill for distilled water

Controller

: Curtis/Zapi or equivalent 80V AC
Traction Motor Controller

Axles

Front

: MAK I-Beam steering axle

Rear

: Emmequattro/EME or Equivalent
drive axle

Hydraulics

Powerpack

: DC motor with hydraulic pump

Steering

: Hydrostatic power steering

Braking

: Hydraulic Servo assisted dual
circuit braking system with Front
Disc/Rear Drums

Suspension

Front

: Leaf Spring/Shock Absorbers

Rear

: Leaf Spring

Electricals

Lights in compliance with road regulations

Inching operation near rear tow hitch

Main display – Diagnostic LCD Display in cabin dashboard

Battery State of charge (SOC)
Vehicle Speed
Hour meter
Advanced system Warning states

Tyre

Industrial Standard Solid Tyre
Front – 6.00 x 9
Rear – 7.00 x 12
Pneumatic Tyre (Optional)
Supplied with MAK external Battery
charger (additional)

4-Level rear Tow Hitch
Front Tow Hitch
"Dead Man" pedal for additional safety
Operator Cabin door with A/C,
Heater, Demister(optional)
Hydraulic parking brakes for gradient
parking(optional)

*

Due to continuous development, the specifications, layout, configuration and dimensions are subject to change without notice.